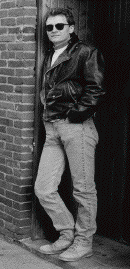 Alan Johnson
Engineer / Producer
---
Starting as an intern in 1981, Alan is currently the Chief Engineer at Saga Studios. Known across the country for his ability to capture the sound for which record companies, producers and artists strive, Alan is also respected for his preparedness and keen sense of knowing what works.
Alan has recorded for a variety of well-known artists, producers, songwriters, and advertisers including:
John Fogerty
Babyface
The Bob & Tom Show
Duke Tumatoe
Kenny Loggins
Larry Crane
Carl Storie
Tim Wilson
The Floating Men
Steve Allee
Rodney Carrington
Deliverance
Flexx Squad
Pinkard and Bowden
Barry Martin
Mark Stephan Cawley
Todd Yohn
Mary Ann Kennedy
John Howcott
Creative Street, Inc.
Promus Hotels
Heywood Banks
The Byrds
McDonald's
Nationally Broadcast Live Radio Mixes:
Hootie and the Blowfish
Toad The Wet Sprocket
Melissa Etheridge
Sam Kinison
Extreme
Peter Frampton
Lynard Skynyrd
Double Trouble
Fastball
Patty Smyth
Eddie Money
Jonny Lang
John Sebastian
Styx
Gary Wright
The Why Store
Kenny Wayne Shephard
Susan Tedesci
Bad Company
Paul Rodgers
John Hiatt
The Pat McGee Band
Blues Traveler
Alan has been a NARAS/Grammy Awards voting member since 1984.